MCPSS VISION
Mobile County Public Schools will become a premier educational system where students engage in multiple pathways leading to success in a global society.
MCPSS MISSION
The mission of Mobile County Public Schools is to graduate prepared and productive citizens.
OUR MISSION
Our school reflects an atmosphere of mutual respect and cooperation between families, students, and teachers. The mission of Alba Middle School is to educate the total child in preparation for life as a resourceful, adaptive, and productive citizen. Family members are encouraged to support and help improve the academic achievement of their children.

ALBA MIDDLE SCHOOL PHILOSOPHY
Alba Middle School should provide educational experiences which foster individuality, educational growth, and responsible young adults. A responsive instructional program that stresses discovering, communicating and cooperating shall be provided.
Students will participate in learning experiences that promote the development of basic skills, academic excellence, and potential careers in professional, vocational, environmental, and technological areas. The faculty and staff are committed to assisting every student in reaching his/her potential academically, socially emotionally, and physically. The community shall be encouraged to actively participate in all aspects of the school program.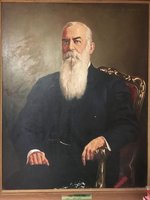 Peter F. Alba
Peter Francis Alba was one of the most popular men in Mobile area. The life of Peter Alba could easily be made into an interesting book, and one could be easily impressed by his service in the Civil War. He had a love of animals and was partial to horses. Some would probably be surprised to know that he was Mobile's Carnival King around 1875.
Peter Alba was born February 13, 1835, in Pensacola, Florida. His paternal ancestral roots were from Spain, and his family settled in Florida during the 17th century. He was of French ancestry on his maternal side. Peter Alba, at the age of 8, came to Mobile with his mother, stepfather, and sisters. He lived in Toulminville and attended a school for boys in Spring Hill. His love for horses probably began with his pony that he rode to school every day. During earlier years many a new boy coming to Mobile was initiated by his challenges but overcame the same. He proved he could out swim any boy, could tame a colt, and could outshoot any other boy with a pistol or bow and arrow, which was not unusual for children to do in this era in time. As a teenager he developed a restless spirit and left school at the age of 15, moving to New Orleans and later to St. Louis, Missouri. When the second U.S. Calvary was organized, he served as a government ranger in the Southwest frontier. After his service, Alba decided to study veterinary medicine and had a dual career in the livery and undertaking business.
He was known to travel to faraway places and had some of the finest and most unusual horses shipped back to Mobile. Alba had a generous spirit and was known for his giving to various charitable organizations. He was deeply concerned about mistreatment of animals, and his name is associated with the Mobile Humane Society. There was a horse in Mobile who was referred to as being a powerful and almost maniacal stallion. He was given the name "Man eater" due to the number of attacks on his attendants. In his own special style Alba befriended the horse, making him into his own "buggy horse." They could be seen riding through Mobile streets on any given day. He never whipped the horse nor spoke harshly, but treated him like he thought the horse wanted to be treated.
Peter F. Alba School History
Alba School opened for classes in 1918 with the first class graduating in 1919. Alba was the first consolidated school, grades 1-11, in Mobile County. The high school was accredited by the State Department of Education in 1936. In 1951-52 a grade was added to the elementary classes, making grades 1-8 and the high school then grades 9-12. This resulted in a graduating class for 1954, with the class of 1955 being the first class to graduate after finishing 12 grades. The elementary school was accredited by the State Department of Education in 1972. This was the first of the 52 elementary schools to be accredited in Mobile County. Since the high school was already accredited, this made Peter F Alba the first school, grades 1-12, to be accredited in Mobile County.
Throughout the years, buildings were added. The cafeteria building once doubled as the auditorium. The original building housing the elementary (1-8) and the high school (9-12) in the main building. In the fall of 1998, Peter F. Alba High School students (9-12) were transferred to Alma Bryant High, leaving the main building to the middle school students, thus changing its name to Peter F. Alba Middle School. The remaining two-story building will celebrate its 100th year in January of 2018.